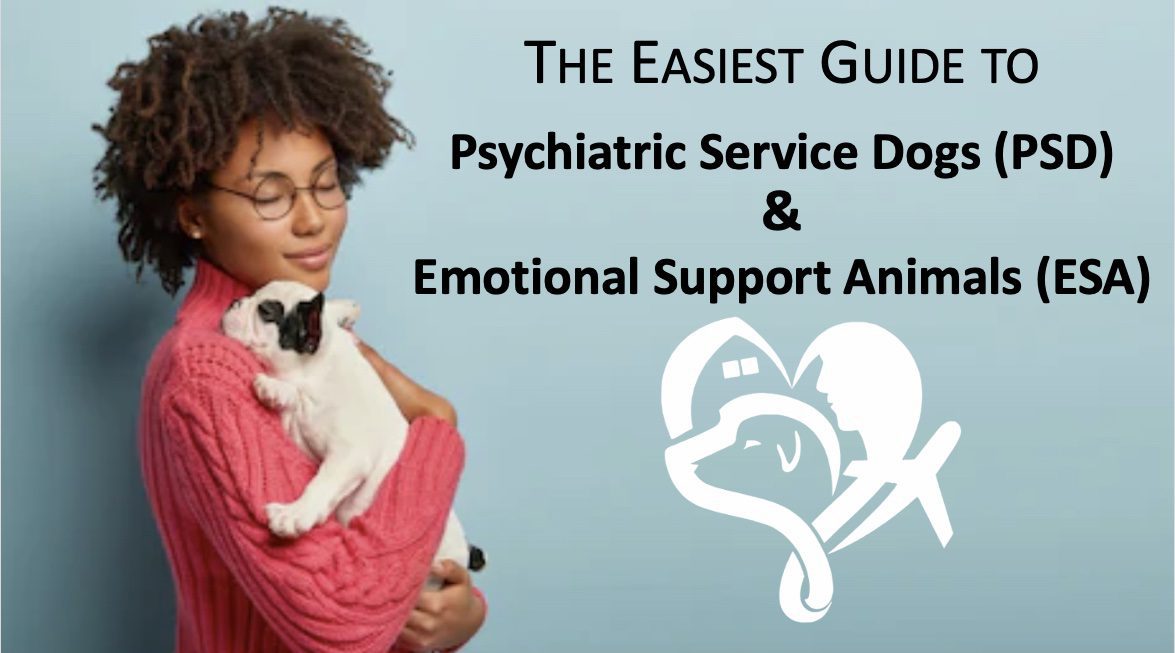 What is an Emotional Support Animal (ESA)?
An emotional support animal (also referred to as an ESA) is a dog, or cat, or other animal that helps alleviate symptoms of anxiety and stress that impair emotions and stability through comfort, support, and companionship.
Commonly an emotional support animal may be referred to as an assistance animal or a service/support animal that provides aid to your daily life through structure, care, and nurture.
What is a Psychiatric Service Dog (PSD)?
A psychiatric service dog (also referred to as an PSD) is a type of service dog trained to perform a specific task for its owner to assist with a psychological impairment. The specific task is unique to the dog in order to assist the owner with his or her disability.
Service dogs are typically noticeable as guide dogs that provide a service to people with impaired or blind vision. Yet, a psychiatric service dog (PSD) helps an individual with unseen or unnoticeable disability.
Who needs a Psychiatric Service Dog (PSD) or an Emotional Support Animal (ESA)?
If you have an emotional or psychological condition or even experience any intense emotional feelings and anxiety, then an emotional support animal may be a great therapeutic option for you. Having comforting animals around has been proven to enhance dopamine levels. This means that keeping a furry friend at your side can decrease anxiety and stabilize your emotions. Emotional support animals are a major asset for many people. 
Remember, stress and anxiety have been linked to five major causes of death, including heart disease, cancer, and suicide.
Emotional support animals typically benefit individuals who suffer from a mental and/or emotional distress, like:
Anxiety, especially in Social Settings
Depression
Panic
Personality Difficulties
Post-Traumatic Stress Disorder (PTSD)
How do you qualify for a Service Dog or an Emotional Support Animal?
Of course, the only way to determine if an emotional support animal is right for you is to complete a free assessment and/or speak with your doctor. If you have any of the above conditions, bringing up the idea of an emotional support animals to your doctor could be a great option. All you need to qualify for an emotion support animal is to receive a recommendation from your doctor or mental health professional. 
While they can be a great source of support, dealing with the logistics of having emotional support animals can be tricky at times. There is a lot of confusion about the difference between emotional support animals and service dogs, as well as which places emotional support animals get access to legally. 
Has your doctor recommended a furry four-legged companion? Here is everything that you need to know about having an emotional support animal and getting set up with the right documentation.
How much are PSD or ESA documents and registration?
Emotional support
Do you need a service dog or an emotional support animal for housing (apartment, condo, and school campuses)?
Both federal and local laws give you rights to live with your emotional support animal. In fact, it is illegal for a landlord or property manager to discriminate against you for needing and having an emotional support animal.
While some landlords and property managers may make it difficult for you to have an emotional support animal, we provide you with the necessary support and resources to ensure you have the proper documentation, which typically includes a letter from a healthcare provider.
We especially provide support to college students and individuals wh
What do I need to fly on airplane with a psychiatric service animal?
While some airlines don't allow pets, it is always possible to fly with psychiatric service dogs. According to federal law, it is illegal to deny disabled individuals access to a flight, especially with a service dog that provides psychological support and comfort. Appropriate documentation is essential to ensuring a successful onboard of the flight.
Flying with a service / support animal, especially for the first time, may be a nerve-racking process. Our goal is to help reduce your stress with your service / support animal, you are always entitled to pre-boarding if you meet the check-in requirements at least 48-hours prior to your flight and notify the gate agent of your intention to preboard by arriving to airport 2 hours before your flight. Check out our Resource for All Major Airline Policies for any further questions about your specific travel.
How do I choose the best online company for service dog and support animal services, especially since there are so many?
Trying
to understand the laws and wanting not wanting to be scammed by an online
company is important to consider. Whether you choose TheraPetic as your
provider of service/support animal documentation or decide on a different
company, we encourage you to be skeptical and confirm the following:
→ THE COMPANY IS BASED IN YOUR COUNTRY OF RESIDENCE AND IS REGISTERED "NOT FOR PROFIT" – Nearly all online companies are for profit and do not support local shelters or animals in need of homes.
→ THE COMPANY IS AN ACCREDITED HEALTHCARE PROVIDER QUALIFIED TO REGISTER SERVICE ANIMALS AND PROVIDE LETTERS/FORMS. – Most online companies collect your private information and use it for their marketing schemes.
→ THE COMPANY HAS A FULL REFUND POLICY AND NOT A PARTIAL REFUND POLICY, WHICH SHOULD BE VERY EVIDENT & TRANSPARENT. – Just about all online companies do not provide a full refund or resource support when clients experience an issue. Here is our Refund Policy.
→ THE COMPANY HAS VERIFIED REVIEWS FROM GOOGLE OR SOME OTHER INDEPENDENT REVIEW COMPANY.
TheraPetic is THE ONLY COMPANY that proudly
exceeds these industry standards! 
Our Mission is You and ESAs
TheraPetic is a 501(c)(3) nonprofit organization registered as a mental healthcare provider and part of the U.S. Service/Support Animal Directory network to provide mental health services and support individuals with Service / Support Animals (ESA) for everyday living and traveling with peace of mind by providing instant documentation and ESA registration.
Our Success & Community Contribution
Dedicated to providing clinical letters and saving pets from no-kill shelters
Guaranteed satisfaction to all donors and clients for their generous support
Only compliant mental healthcare network to meet all federally required cyber securities for therapy dogs, service / emotional support animals
Largest advocacy and resource network to give back to the dog community by promoting no-kill shelters through sponsorship and support